Guaranteed

Gutter Protection

Whether you're installing gutters or have existing gutters, Gutter Filter installs on and reinforces your existing gutters.
Call us on (952) 473-5555 today for a no-obligation gutter protection estimate, and upgrade your gutters today!
What

We Do
Gutter Filter
A gutter protection system that ends gutter cleaning forever. Unlike the gutter helmet or leaf guard type solid gutter hoods, Gutter Filter has no openings to allow debris into the gutter. Gutter Filter is fully enclosed, so not even seeds, pine needles, or shingle grit can enter the gutter. And since Gutter Filter is a screen, it works on both steep roofs and all roof pitches, unlike traditional gutter guards which rely on surface tension to pull water into the gutter. This is the ultimate in gutter protection. No longer will you need to climb a ladder to pull wet leaves and grit that have been clogging your gutters. Our surgical grade stainless steel gutter screen filters out all debris so that cleaning out your gutters is a thing of the past. Gutter Filter is so effective at filtering debris from entering the gutter that many of our customers use it for rainwater harvesting. Gutter Filter attaches to the front of your gutter and to your fascia so it transforms your gutter into a fully enclosed box, which dramatically increases the strength of your gutter. This stronger gutter means that ice will no longer pull your gutters down and no longer will ice load cause gutter misalignment or gutter detachment.
Why

Choose Gutter Filter?
Latest

News More news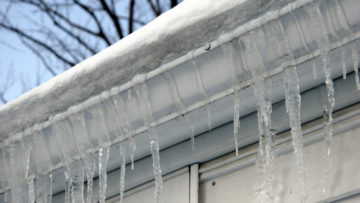 What are the best gutter guards for Minnesota's climate? Unfortunately, traditional solid hood gutters have not performed...
Read More
We had GutterFilter install their gutter screens on our home & I have not had to get on the ladder ever since. My neighbors had a different brand of gutter guard put on and they ended up throwing those away. Were very happy with ours.
The guys showed up when they said they would, and when they found a rotted fascia board, they replaced that & just charged me for the board. They cleaned the gutters, repaired them and replaced a bent section. The gutter screens are working great! Thanks guys!
Robert B.
St Louis Park, MN
I did my research and I think I got the best gutter protection available. So far, so good, no problems with clogs or overflow anymore.
Good price, great product and service, got the results I wanted.
Steve N.
Belle Plaine, MN
When your salesman came for the estimate, he inspected the gutters, and then he showed us the various types of products that are available in the market, his price was reasonable and there were no surprises. We will be happy to refer you guys.
Margie & Pete W.
Mendota Heights, MN
We are so relieved to have Gutter Filter on our gutters. My husband Bill fractured his hip falling off the ladder last fall and now we are done worrying about our gutters overflowing. Thank you.
William & Justine R.
Minneapolis, MN
Thanks guys! You did everything you said you would when you said you would. I am happy to be done with cleaning gutters. I have referred you to our neighbors.
We had leaf guard type hoods on our gutters and they were always getting clogged and the icicles in the winter were terrible. The GutterFilter screens have been working well and there's no opening for the Ash seeds to get in.
Stev & Marie P.
Ramsey, MN